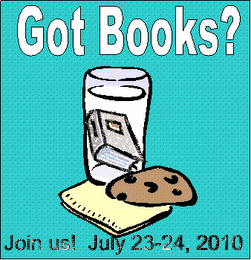 Today is the big day. Over 100 book blogs are having giveaways right this very minute.
If you are new to my blog, please follow me (on left toolbar) or bookmark my site so you can come back and check things out. Please enter my other giveaways (found on the right toolbar).
Today I sending a lucky winner shopping at
Cafe Press
. The winner will receive a $20 GC. What does this have to do with books you ask? Well some of my favorite Cafe Press items are inspired/created by some great authors. For example...
You could select any of these with your $20 Gift Certificate to
Cafe Press
. There are tons of items to choose from, something for everyone.
This will be open to residents of US/Canada. The winner will receive a $20 GC to Cafe Press. To enter, complete the form. For an extra entry, follow my blog. Good luck!

*Please ignore the typo on the form, it is driving me crazy, but I can't fix it.
*If you are an author with a Cafe Press store, or if you know of another author store, please leave a link in the comments. I will displaying this information in a future post. Thank you.